DTE Energy Powers Up to Help Agencies in Michigan

The Michigan Head Start Association gained a new partner in mid-2017 in a welcomed joint venture to help rehab Head Start school building and grounds around Michigan! The Detroit-based energy company, DTE energy, has engaged company employees statewide to volunteer during their off-hours to perform needed facilities work at Head Start centers.
The DTE pledge has begun with several projects in central and northern Michigan and another handful in southeast Michigan, where most DTE employees live and work. DTE employees with talents in the skilled trades -- carpentry, plumbing, construction -- will help with the repairs and clean-up of Head Start facilities. Projects may include building handicap-accessible ramps, fixing safety hazards by resurfacing uneven floors, improving playgrounds, and renovating building interiors that can be accomplished by teams in a day or weekend. The company said it intends for the program to continue year to year. DTE managers will review requests and match them up with DTE employee teams based on their skill sets.
MHSA Executive Director Robin J. Bozek said the volunteer work is greatly appreciated given that many Head Start programs for 3- and 4-year-olds, along with Early Head Start programs for babies and parents, are located in aging former school buildings. "Head Start agency directors identify facility improvements as a top concern for providers, particularly because grant funding is almost always tied to running programs," Bozek said. "Our partnership with DTE is a terrific bonus for helping our hard-working but financially constrained programs improve their surroundings to benefit kids, families and staff."
Literacy Project Donates 1,000's of Books to Head Start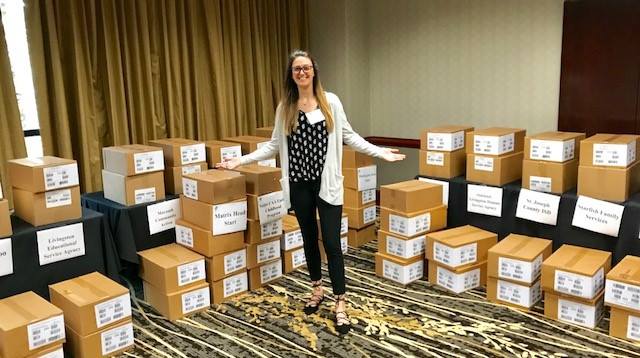 A special bonus for attending MHSA's 3rd Annual Health Institute in November 2017 was found in dozens of boxes that filled a side meeting room of the conference site.
They were packed with more than 10,000 children's books donated to the Michigan Head Start Association from the Michigan-based book publisher, Bucket Fillers, Inc. and made available to Head Start agencies across Michigan.  "When Bucket Fillers contacted us about establishing this partnership, we knew we had to find a way to get these beautifully illustrated stories in the hands of our families," said MHSA Executive Director Robin J. Bozek. "We couldn't have been more grateful to receive these best-sellers, filled with wonderful stories about love and kindness," she said.
The distribution included "Will You Fill My Bucket?" and "Bucket Filling from A to Z."  Bucket Fillers author/founder Carol McCloud said she was happy to know that Head Start teachers would be leading a new generation to be kind to others by filling their buckets. 
"When I first began using the bucket-filling concept with preschool children over 20 years ago, I never would have imagined how our books would make an impact on children all over the world, teaching them to express love and kindness by filling buckets," McCloud said.
The transfer was made possible with the help of another community partner, Two Men & a Truck, a Lansing-based storage and moving company. The company generously stored the books free of charge for more than four months and then transported them to the Health Institute in downtown Lansing.
"It was a wonderful event made possible by two Michigan-based businesses," Bozek added.
Hoop House Program Promotes Healthy Eating
To help ensure that vulnerable children and their families have access to fresh produce all year long, the Michigan Head Start Association proudly partners with the Michigan Farmers Market Association (MIFMA) in its "Hoophouses for Health" innovative food access program. The program provides eligible, low-income families with food vouchers distributed through Head Start sites that families can use to buy fruits and vegetables at farmers markets across Michigan.
Markets in Battle Creek, Marquette, Saginaw, Ypsilanti, Flint and Lapeer have participated. For their part, farmers use the vouchers to repay loans secured for the building of these unheated, plastic-covered structures where produce can grow even in the cold winter months. The Hoophouse program is funded by the W.K. Kellogg Foundation and implemented by MIFMA with the MSU Center for Regional Food Systems and the MSU Department of Horticulture. Of course, for families of young children, the addition of more fruits and vegetables in daily diets is a terrific health boost for adults and youngsters, alike, regardless of the season!
For additional information about this food access program, contact Amanda Segar at amanda@mifma.org or 517-432-3381.
MSU Extension Office Partners for Training
With offices in nearly all counties in Michigan, Michigan State University Extension has been a long-standing and reliable partner of Head Start agencies for onsite trainings and presentations for staff and parents.
Academic topics that focus on teaching children about math, literature, science, along with new ways to use art education in the classroom, are popular offerings for Head Start educators, according to Extension Educator Kylie Rymanowicz.
Other courses popular with teachers and parents include Positive Discipline, social-emotional health, dealing with anger and strong emotions, and what children need to know to begin school. "We're opening new trainings all the time, and always have something new in the line-up," she added. Rymanowicz said parent groups often contact regional extension offices to request a program for monthly parent meetings.
"It is a great partnership because they're required to provide educational content and that's exactly what we do," she added. For a listing of program titles and descriptions, and other marketing material for one or two-hour programs, contact Rymanowicz at earlychildhood@anr.msu.edu