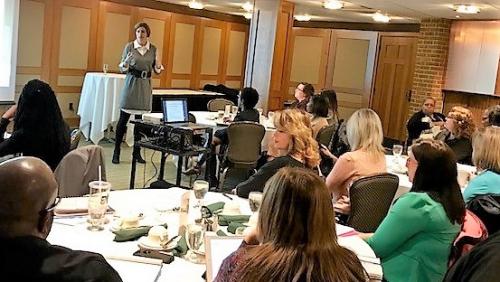 (EAST LANSING, Mich.) Talent pools are shrinking, budgets are tight and the work is hard.  How do we recruit and retain talent when resources are limited? The answer to these questions and much more were tackled by MHSA's Human Resources Learning Community on Feb. 15, 2018 with visiting HR expert and presenter Jodi Schafer.

Schafer, a senior HR professional and owner of Human Resources Management Services, led a frank conversation about research and reality in "Grow Your Own Talent Programs" focused on strategies to retain employees that agencies have invested in.

"Failure to recognize the role of employee engagement, influential leadership and one's own biochemistry could mean the difference between growing your next long-term staff members and simply training them for your competition," she said.

Schafer told the group that creating a positive, healthy work culture is essential to maintaining and growing one's workforce and includes these inter-related elements: a positive view of the psychological contract between employers and employees; fair and balanced treatment at work; increased levels of trust, faith, commitment and enthusiasm; employees who feel good about themselves and are happy; and increased job satisfaction.