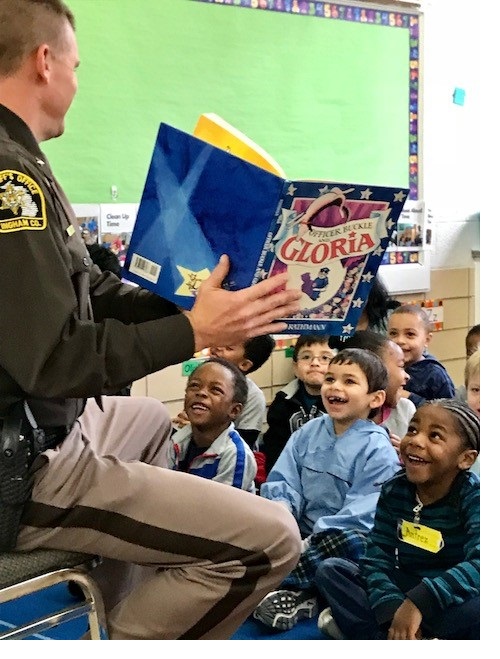 LANSING, MI - Unlike children's book character Officer Buckle, Ingham County Sheriff Scott Wriggelsworth would never stand on a swivel chair for better reach. That's safety lesson number 77, he told a lively group of giggling preschoolers at Maplehill Head Start this week.
But like the mishap-prone hero in "Officer Buckle and Gloria," who takes a fall and goes on to teach children about safety with help from his police dog Gloria, Wriggelsworth said he also employs police dogs in the line of duty. None of them are named Gloria, but he did promise to bring one on a return visit to Maplehill one day.
Ingham County's top cop spent the morning as a celebrity reader at Maplehill to help drive home the message that early literacy is important and valued by community members. His visit was among scores taking place across the country following the National Head Start Association's launch of the national reading initiative, "Books Building Bridges." The program urges local law enforcement to celebrate reading by visiting a Head Start classroom. "We're delighted to bring this initiative to our state, and reach a new generation of readers with literacy habits modeled by community leaders," said Michigan Head Start Association Executive Director Robin J. Bozek.
While engaging the children in conversation, the Sheriff also discussed important safety lessons: How to call 9-1-1 in an emergency; and looking for a police officer for help if they experience trouble. But he also posed questions to the children about pets at home and what they want to be when they grow up.
"Holy smokes. We've got two Nascar drivers in here!" he reacted laughing. A few hands also went up when asked who considered becoming a police officer.
"This is an important opportunity for the children to learn about professionals and what they do in the community, and to form relationships with the community," said Head Start Teacher Charlene Fahie.
Sheriff Wriggelsworth was invited to Maplehill by Head Start Director Lucy McClintic, of Capital Area Community Services. She said the experience was a happy one for the children.
"I was impressed with the conversations and questions between the Sheriff and children," McClintic said. "The book he captivated them, and offered many great ideas for future safety lessons."
Towering over the youngsters even while seated, Sheriff Wriggelsworth talked about the tools of his profession and drew a distinction between a deputy sheriff and police officer. Police officers wear round badges and blue uniforms, while deputies wear star-shaped badges on brown uniforms. He described the tools he wears around his belt – a police radio, a pair of handcuffs – but said he would not answer any questions about his gun.
Keeping to the safety theme, Wriggelsworth said police officers use handcuffs – "not to be mean" – but to keep everyone surrounding an arrest, police officers and suspects, safe from harm.
To impress the importance of dialing 9-1-1, the Sheriff asked the students, "So who would you call if you were in trouble?" Everyone smiled when several shouted, "You!"
Wriggelsworth said it was an "amazing" experience. ""The most precious gift you can give someone is your time," he said. "Hopefully, the time we spent together gave them a positive image of law enforcement, as well as how important READING is to young people," he said.