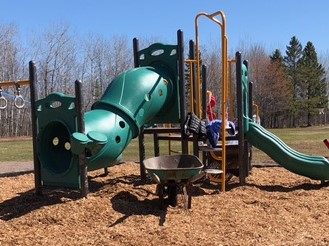 (Sault Sainte Marie, Mich.) – No amount of rain nor cloudy skies deterred volunteers from Michigan-based DTE Energy from descending on an Upper Peninsula early childhood center to lend a hand on May 4, 2018.
When their work was completed, the children of the Soo Township Early Childhood Center in Sault Sainte Marie had a brand new playground complete with a climbing structure, and two slides. An estimated 36 children will start preschool in the fall with a great new place to play outdoors, said Vicki Thomas, the center's Program Manager.
The center provides programming for children enrolled in both Head Start and the Great Start to Readiness Program, and is operated by the Chippewa-Luce-Mackinac Community Action Human Resource Authority.
"The children are so excited," Thomas said. "We moved to an elementary school a few years ago and the existing playground is not age appropriate for our children. We're so pleased with the new change."
"We could not have completed this project without the help of DTE Energy," she added. "We'd love to work with DTE Energy again!"
Wearing rain gear and slogging through slippery mud, six volunteers worked throughout the day installing the equipment and pouring cement and gravel to secure it.
DTE is one of the Michigan Head Start Association's newest community partners. DTE launched efforts late last year to assist Head Start centers with facility repairs and clean-up projects. DTE management continues to review requests and match them with DTE employee teams based on their skill sets.
MHSA Executive Director Robin J. Bozek said the volunteer work is greatly appreciated given that many Head Start programs for 3- and 4-year-olds, along with Early Head Start programs for babies and parents, are located in aging former school buildings.
"Head Start agency directors identify facility improvements as a top concern for providers," Bozek said. "Our partnership with DTE is a terrific bonus for helping our hard-working but financially constrained programs improve their surroundings to benefit kids, families and staff."
Email or call MHSA Advocacy Manager Teri Banas at teri@michheadstart.org, (517) 374-6472 if you have a project you would like DTE to consider providing support to in your area.